The true artists are the wonderful and talented people who make the beads I use in my jewelry designs. I just try to put their gorgeous creations with components that will properly show them off so we can all enjoy them as we wear them.


Because these artists are the true creative force and genuine talent involved in the jewelry I create, I would like to recognize some of the artists I purchase from on a regular basis. I have listed their names in alphabetical order so as not to discriminate in any way. Quite frankly, if I had to choose a favorite, it would be extremely difficult! They are true masters of their art and I can't say enough good things about them and the amazing beads they create. But the greatest and most exciting discovery I have made is this: I have found these wonderful master crafts people to be some of the nicest, friendliest and kindest people I have ever had the pleasure of knowing!


I hope you will visit their web sites and enjoy their beautiful work. If I could secure their permission, I have included a link that will take you to their web site or to their eBay auctions. They don't get enough recognition for being the master crafts people they truly are and I am determined to give some well deserved credit where it is due! I want everyone to know how wonderful these warm, genuine people are. I also want to make sure they get some overdue recognition for being the gifted artists and intensely creative individuals they are.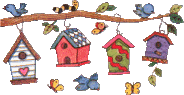 A Special "Thank You"

I would like to extend a special note of appreciation to Karl and Krista Tseu, the "Daddy and Mommy Fish" of the "5 Fish Designs" family (link right). Not only are they both VERY gifted glass artists, their help with my web site and encouragement about my jewelry has kept me going so many times during the past years, I'm forever indebted to them. When I have doubted my abilities, they have lifted me up and urged me to continue. Though I only recently met them in person, they have given so much to me...the most valuable of which is their friendship. That is the gift I treasure the most and it is what I am the most grateful for!

Although saying "thank you" is inadequate, it comes from the heart. Some people who come into our lives touch us more deeply than others and leave wonderful pieces of themselves in the footprints they make in our heart and soul. These pieces of themselves that they share are like diamonds or fine gold, but better, for they have worth that is too great to be measured. I am forever grateful for the diamonds and gold you both have shared with me. I couldn't have made it this far without you - and honestly, I love you all so much and find each day so much more rich because you are in my life, I can't even imagine life without you in it!

I would also like to recognize and thank Artistry in Silver. I purchase a great deal of silver toggles, beads and bead caps from this wonderful store because they always carry high quality silver and they are totally reliable, standing behind everything they sell. They also provide outstanding customer service. People and places like this are not that easy to find! Fortunately, I have come into contact with some terrific people while starting this new venture and Artistry in Silver's owner is very high on my list of people I appreciate!

Addicted 2 Beads (Now Sonya Beads)

Adriana Sauceda

Blue Fire Glass

Firefly Glass

Foofaraw Beads

JC Herrell

Koregon ~ Dan & Kaye Husko

Northern Lights - Tin Top

OCD Lampwork
(Click on the link - indicated by underlined text - to visit the glass artist's web site or eBay auction)